Custom Right Decision Chinese & Japanese Calligraphy Wall Scroll
We have many options to create artwork with Right Decision characters on a wall scroll or portrait.
If you want to create a cool Right Decision wall scroll, this is the place. Below you will find a few Asian symbols that express the idea of right decision.
---
---
Justice / Rectitude / Right Decision
Also means: honor loyalty morality righteousness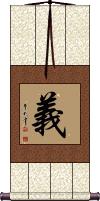 義 is about doing the right thing or making the right decision, not because it's easy but because it's ethically and morally correct.

No matter the outcome or result, one does not lose face if tempering proper justice.

義 can also be defined as righteousness, justice, morality, honor, or "right conduct". In more a more expanded definition, it can mean loyalty to friends, loyalty to the public good, or patriotism. This idea of loyalty and friendship comes from the fact that you will treat those you are loyal to with morality and justice.

義 is also one of the five tenets of Confucius doctrine.



There's also an alternate version of this character sometimes seen in Bushido or Korean Taekwondo tenets. It's just the addition of a radical on the left side of the character. If you want this version, click on the image to the right instead of the button above.
---
This is also a virtue of the Samurai Warrior
See our page with just Code of the Samurai / Bushido here
---
See Also: Judgment | Impartial | Confucius Tenets
Listen to Your Heart / Follow Your Heart

隨心而行 is the closest way to express this idea in Chinese. Literally translated, this phrase means, "Allow your heart to dictate your behavior" or "Let your heart guide your conduct" in Chinese. You could also translate this as "follow your heart". Or, with a bit of imagination, it could mean: "let your spirit be your guide".

Note that in some cases, "heart" can mean "mind", "soul" or even "spirit" in Chinese. In ancient China, it was thought that the big pumping organ in your chest was where your thoughts came from, or where your soul resides.
Ancient western thought followed a similar belief. Thus phrases like "I love you with all my heart" and "I give you my whole heart".
Listen to Both Sides and be Enlightened, Listen to One Side and be in the Dark
jiān tīng zé míng, piān tīng zé àn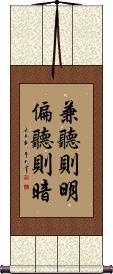 兼聽則明偏聽則暗 is an ancient Chinese proverb about getting all the information from all sides so that you truly understand a situation.


A man named Wei Zheng lived between 580-643 AD. He was a noble and wise historian and minister in the court of the early Tang Dynasty.The emperor once asked him, "What should an emperor do to understand the real-world situation and what makes an emperor out-of-touch with reality?"

Wei Zheng replied, "Listen to both sides and you will be enlightened; listen to only one side and you will be left in the dark".

Then Wei Zheng went on to cite examples of leaders in history that were victorious after heeding both sides of the story, and other leaders that met their doom because they believed one-sided stories which often came from flattering lips.

Please note that there is an unwritten rule when the same character appears twice in the same phrase, the calligrapher will alter the appearance so that no two characters are exactly alike in the same piece. This calligraphy has two repeating characters that will be written differently than they appear here.
Impartial and Fair to the Brotherhood and Sisterhood of the World

一視同仁 is how to write "universal benevolence". 一視同仁 is also how to express the idea that you see all people the same.

If you are kind and charitable to all people, this is the best way to state that virtue. It is the essence of being impartial to all mankind, regardless of social standing, background, race, sex, etc. You do not judge others but rather you see them eye to eye on the same level with you.
---
See Also: Benevolence | Compassion | Equality | Justice | Selflessness | Work Unselfishly for the Common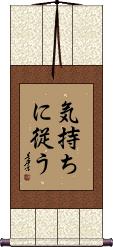 気持ちに従う is a Japanese phrase that means follow your heart.

The first part of this Japanese proverb means, feeling, sensation, or mood.

The second part suggests the following, abiding by, or listening to this inner feeling.

In this context, you could say it means your heart, as the whole proverb is suggesting that you follow the feelings that you have inside.
---
Note: Because this selection contains some special Japanese Hiragana characters, it should be written by a Japanese calligrapher.
Push or Knock
To weigh one's words

During the Tang Dynasty, a man named Jia Dao (born in the year 779), a well studied scholar and poet, went to the capital to take the imperial examination.

One day as he rides a donkey through the city streets, a poem begins to form in his mind. A portion of the poem comes into his head like this:
"The bird sits on the tree branch near a pond,
A monk approaches and knocks at the gate..".
At the same time, he wondered if the word "push" would be better than "knock" in his poem.

As he rides down the street, he imagines the monk pushing or knocking. Soon he finds himself making motions of pushing, and shaking a fist in a knocking motion as he debates which word to use. He is quite a sight as he makes his way down the street on his donkey with hands and fists flying about as the internal debate continues.

As he amuses people along the street, he becomes completely lost in his thoughts and does not see the mayor's procession coming in the opposite direction. Jia Bao is blocking the way for the procession to continue down the road, and the mayor's guards immediately decide to remove Jia Bao by force. Jia Bao, not realizing that he was in the way, apologizes, explains his poetic dilemma, and awaits his punishment for blocking the mayor's way.

The mayor, Han Yu, a scholar and author of prose himself, finds himself intrigued by Jia Dao's poem and problem. Han Yu gets off his horse, and addresses Jia Bao, stating, "I think knock is better". The relieved Jia Bao raises his head, and is invited by the mayor to join the procession, and are seen riding off together down the street exchanging their ideas and love of poetry.

In modern Chinese, this idiom is used when someone is trying to decide which word to use in their writing or when struggling to decide between two things when neither seems to have a downside.
This in-stock artwork might be what you are looking for, and ships right away...
The following table may be helpful for those studying Chinese or Japanese...
Many custom options...




And formats...




All of our calligraphy wall scrolls are handmade.
When the calligrapher finishes creating your artwork, it is taken to my art mounting workshop in Beijing where a wall scroll is made by hand from a combination of silk, rice paper, and wood.
After we create your wall scroll, it takes at least two weeks for air mail delivery from Beijing to you.
Allow a few weeks for delivery. Rush service speeds it up by a week or two for $10!
When you select your calligraphy, you'll be taken to another page where you can choose various custom options.
BetaNews | Google: China Decision Was 'Right'
Google: China Decision Was 'Right' By Ed Oswald, BetaNews. April 12, ... Wednesday it did the right thing in appeasing the Chinese government in order to...
Google: China decision painful but right | CNET News.com
Google: China decision painful but right | Co-founder Sergey Brin says the ... said his company's decision to self-censor its Chinese search system followed a...
The Right Decision on China, -- Kissinger
World Tibet Network News. Wednesday, June 8, 1994. 6. The Right Decision on China, -- Kissinger ... pluralistic Chinese society.
Chinese Journals Discard Up-Down for Left-Right Reading
Chinese Newspapers Discard Up-Down for Left-Right Reading. March 25, 2002, ... satisfied that they made the right decision to publish left-to-right columns.
I CHING PHILOSOPHY: Chinese Laws of Creativity and Wisdom
Advanced Ideas and Insights into the Philosophy of the I Ching ... many other excellent books of Chinese philosophy translated by Richard Wilhelm,...
Treasury Bonds Promotes Economic Growth: Premier
...made the right decision inissuing treasury bonds, Chinese Premier Zhu Rongji ... The 1,000-odd photos on display illustrate how the profits fromtreasury bonds...
Guide to buying a Shar-Pei PUPPY
SHAR-PEI,Guide to buying a Shar-Pei puppy,Before you buy a Shar-Pei,How to ... the right decision, second to ensure that a Chinese Shar-Pei is the right dog...
Infoplease Search: decision make move remodel right
Chinese New Year. Allusions. African American Biographies. Civil Rights Timeline ... Refine your search for decision make move remodel right:...
Smart Dating for Dating Services
So here we provide some Chinese Astrology for Dating and Marriage pages, which may help you be smarter to make the right decision for your life.
The Seattle Times: Local News: In schools, learning Chinese isn't foreign anymore
Daily local news, sports, arts and entertainment, and classified ads.
... Derby winner Barbaro euthanized ?the "right decision," owners say...
Taipei Times - archives
...bolster military training to `defend territory,' Chinese official says ... bian (³¯¤ô"ó) made the right decision in "ceasing" the activity of the National...
Jones,Jesus "Right Decision" music albums for sale - Jones,Jesus vinyl records, cds and memorobilia - GEMM.com
...1993 JESUS JONES The Right Decision (1993 Japanese 2-track 3" promo sample ... Right Decision - Japanese (CD) Label: Made In: japan. Media: CD Condition: EX...
Japanese Hostages - Asia Finest Discussion Forum
Do you people think that was the right decision? ... It was a hard decision for the Japanese government cause if they did comply with...
news content
...so-called textbook, compiled by Japanese right-wing forces, attempts to gloss ... Japanese government's decision as being obvious biased in favor of the right...
Spokesperson on the issue of Japanese textbook
...dissatisfied with the Japanese government's decision, and has made solemn ... so-called textbook, compiled by Japanese right-wing forces, attempts to gloss...
FM Spokeswoman on Japanese History Textbook (2001-07-09)
...so-called textbook, compiled by Japanese right-wing forces, attempts to gloss ... Japanese government's decision as being obvious biased in favor of the right...
The obscurity of Japanese business, coupled with subtlety, begs the question as to how the Japanese have become ...
...to help bring about a "right" decision, one where all the consequences were ... much work would have to be done to ensure that the right decision was made.
YOUR JAPANESE GUESTS
An account of what happens when Japanese and Americans meet.
... was equal and had the right to participate in the decision making process.