Custom Selflessness Chinese & Japanese Calligraphy Wall Scroll
We have many options to create artwork with Selflessness characters on a wall scroll or portrait.
If you want to create a cool Selflessness wall scroll, this is the place. Below you will find a few Asian symbols that express the idea of selflessness.
See also our Unselfish Philosophies Page.
---
---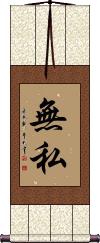 This would be literally translated as "none self" in Chinese, Korean, and Japanese.

It is used to express "selflessness" or "unselfish".

無私 is a popular term for the idea of being selfless or unselfish in modern China and Japan.
This term is not as commonly used in Korea but still has good meaning.
---

無我 is a more common way to say selflessness in Japanese. This literally means "no self" or a better translation might be "not thinking of oneself". 無我 is also understood in Chinese and Korean. 無我 is a very old word in CJK languages.

無我 is the word a Buddhist would use express the idea of selflessness or unselfishness. For Korean Buddhists it can mean self-renunciation.
---
See Also: Altruism
Unselfish: Perfectly Impartial

This Chinese proverb comes from an old story from some time before 476 BC. About a man named Qi Huangyang, who was commissioned by the king to select the best person for a certain job in the Imperial Court.

Qi Huangyang selected his enemy for the job. The king was very confused by the selection but Qi Huangyang explained that he was asked to find the best person for the job, not necessarily someone that he personally liked or had a friendship with.

Later, Confucius commented on how unselfish and impartial Qi Huangyang was by saying "Da Gong Wu Si" which if you look it up in a Chinese dictionary, is generally translated as "Unselfish" or "Just and Fair".

If you translate each character, you'd have something like,
"Big/Deep Justice Without Self".
Direct translations like this leave out a lot of what the Chinese characters really say. Use your imagination, and suddenly you realize that "without self" means "without thinking about yourself in the decision" - together, these two words mean "unselfish". The first two characters serve to really drive the point home that we are talking about a concept that is similar to "blind justice".

One of my Chinese-English dictionaries translates this simply as "just and fair". So that is the short and simple version.

Note: This can be pronounced in Korean but it's not a commonly used term.
---
See Also: Work Unselfishly for the Common Good | Altruism
Work Unselfishly for the Common Good

This can also mean: "Place Strict Standards on Oneself in Public Service".
This Chinese proverb is often used to express how one should act as a government official. Most of us wish our public officials would hold themselves to higher standards. I wish I could send this scroll, along with the meaning to every member of Congress, and the President (or if I was from the UK, all the members of Parliament, and the PM)

The story behind this ancient Chinese idiom:
A man named Cai Zun was born in China a little over 2000 years ago. In 24 AD, he joined an uprising led by Liu Xiu who later became the emperor of the Eastern Han Dynasty.

Later, the new emperor put Cai Zun in charge of the military court. Cai Zun exercised his power in strict accordance with military law, regardless of the offender's rank or background. He even ordered the execution of one of the emperor's close servants after the servant committed a serious crime.

Cai Zun led a simple life but put great demands on himself to do all things in an honorable way. The emperor rewarded him for his honest character and honorable nature by promoting him to the rank of General and granting him the title of Marquis.

Whenever Cai Zun would receive an award, he would give credit to his men and share the reward with them.
Cai Zun was always praised by historians who found many examples of his selfless acts that served the public interest.
Sometime, long ago in history, people began to refer to Cai Zun as "ke ji feng gong".
---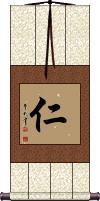 Beyond benevolence, 仁 can be also be defined as "charity" or "mercy" depending on context.

The deeper meaning suggests that one should pay alms to the poor, care for those in trouble, and take care of his fellow man (or woman).

仁 is one of the five tenets of Confucius. In fact, it is a subject in which Confucius spent a great deal of time explaining to his disciples.

I have also seen this benevolent-related word translated as perfect virtue, selflessness, love for humanity, humaneness, goodness, goodwill, or simply "love" in the non-romantic form.
---
This is also a virtue of the Samurai Warrior
See our page with just Code of the Samurai / Bushido here
---
Impartial and Fair to the Brotherhood and Sisterhood of the World

一視同仁 is how to write "universal benevolence". 一視同仁 is also how to express the idea that you see all people the same.

If you are kind and charitable to all people, this is the best way to state that virtue. It is the essence of being impartial to all mankind, regardless of social standing, background, race, sex, etc. You do not judge others but rather you see them eye to eye on the same level with you.
---
See Also: Benevolence | Compassion | Equality | Justice | Right Decision | Work Unselfishly for the Common
Self-Restraint / Self-Control

克己 / 剋己 can be translated as "self-denial", "self-abnegation", "self-restraint", "self-discipline", "self-mastery" or selflessness.

As a tenet of Korean taekwondo, and other martial arts, this is often used with the title "self-control".
The following table may be helpful for those studying Chinese or Japanese...
Title
Characters
Romaji

(Romanized Japanese)

Various forms of Romanized Chinese
Selflessness
無私

---

无私
mushi
wú sī / wu2 si1 / wu si / wusi
wu ssu / wussu
Selflessness
無我

---

无我
muga
wú wǒ / wu2 wo3 / wu wo / wuwo
Unselfish: Perfectly Impartial
大公無私

---

大公无私
dà gōng wú sī

---

da4 gong1 wu2 si1

---

da gong wu si

---

dagongwusi
ta kung wu ssu

---

takungwussu
Work Unselfishly for the Common Good
克己奉公
kè jǐ fèng gōng

---

ke4 ji3 feng4 gong1

---

ke ji feng gong

---

kejifenggong
k`o chi feng kung

---

kochifengkung

---

ko chi feng kung
Benevolence
仁
jin
rén / ren2 / ren
jen
Impartial and Fair to the Brotherhood and Sisterhood of the World
一視同仁

---

一视同仁
isshidoujin

---

ishidojin
yí shì tóng rén

---

yi2 shi4 tong2 ren2

---

yi shi tong ren

---

yishitongren
i shih t`ung jen

---

ishihtungjen

---

i shih tung jen
Self-Restraint
Self-Control
克己 / 剋己

---

克己
kokki / koki
kè jǐ / ke4 ji3 / ke ji / keji
k`o chi / kochi / ko chi
In some entries above you will see that characters have different versions above and below a line.
In these cases, the characters above the line are Traditional Chinese, while the ones below are Simplified Chinese.
All of our calligraphy wall scrolls are handmade.
When the calligrapher finishes creating your artwork, it is taken to my art mounting workshop in Beijing where a wall scroll is made by hand from a combination of silk, rice paper, and wood.
After we create your wall scroll, it takes at least two weeks for air mail delivery from Beijing to you.
Allow a few weeks for delivery. Rush service speeds it up by a week or two for $10!
When you select your calligraphy, you'll be taken to another page where you can choose various custom options.
20th WCP: Impermanence and Death in Sino-Japanese Philosophical Context
...in the Chinese and Japanese philosophical traditions, particularly in ... sophisticated meditative ways of selflessness and detachment are suggested when...
Science of Baseball: Besuboru: page 3
he Japanese attitude toward practice also reflects a different cultural approach.
... test one's loyalty, self-control, moral discipline, and selflessness.
ReadWriteThink: December 7, 2006: Pearl Harbor was attacked by the Japanese in 1941.
...2001, called for heroic acts of selflessness from ordinary citizens, as well as ... social injustice using the Japanese--American Internment during World...
Zen and the Eastern Spirit_Selflessness and Sincerity
Selflessness and Sincerity. Faithfulness and sincerity have formed the core of the Japanese spirit.
... Selflessness naturally brings modesty with it.
abnegation | Swedish | Dictionary & Translation by Babylon
...French, Italian, Spanish, Dutch, Portuguese, German, Russian, Japanese, Korean, ... forgoing, forswearing, renunciation, self-sacrifice, selflessness. Translate:...
Abnegation | Serbian | Dictionary & Translation by Babylon
...French, Italian, Spanish, Dutch, Portuguese, German, Russian, Japanese, Korean, ... forgoing, forswearing, renunciation, self-sacrifice, selflessness. Translate:...
clayart - thread 'quality at shows / Japanese aesthetics'
...there are many many beautiful Japanese pots and at times ... power/selflessness. all those things. I think American. culture is out of balance right now...