Custom Temperance Chinese & Japanese Calligraphy Wall Scroll
We have many options to create artwork with Temperance characters on a wall scroll or portrait.
If you want to create a cool Temperance wall scroll, this is the place. Below you will find a few Asian symbols that express the idea of temperance.

Moderation is creating a healthy balance in your life between work and play, rest and exercise. You don't overdo or get swept away by the things you like. You use your self-discipline to take charge of your life and your time.

節制 can also be translated as sobriety, self-restraint, or temperance.

節制 is often used as part of the Seven Heavenly Virtues to represent sobriety and/or temperance.
---
xìn yǎng xī wàng cí shàn jiān rěn zhèng yì shèn zhòng jié zhì
shinkou kibou jizen kennin seigi shinchou sessei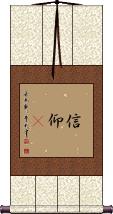 This is a list in Chinese and Japanese Kanji of an interpretation of the Seven Heavenly Virtues.

1. Faith is belief in God, and the right virtues.
2. Hope is taking a positive future view that good will prevail.
3. Charity is concern for, and active helping of, others.
4. Fortitude is never giving up.
5. Justice is being fair and equitable with others.
6. Prudence is care of and moderation with money.
7. Temperance is moderation of needed things and abstinence from things which are not needed.

The full list is here. This is a word list, not a common phrase. While all Chinese and Japanese people will recognize the words in the list, they may not understand what the list is about (unless they are familiar with the Seven Heavenly Virtues).
---
don't get this as a tattoo or anything like that without first consulting a native translator in the target language. These are fine for a wall scroll but a long discussion is needed before you commit to this for a lifetime inking commitment.

In short, temperance is knowing when to say "when".

Temperance is the practice of moderation and restraint (in fact, this Asian word is often translated as moderation or restraint).

It was one of the five tenets held to be vital to society in Hellenic culture. It is also one of the Four Cardinal Virtues considered central to Christian behavior by the Catholic Church.
---
Note: Also considered to be one of the Seven Heavenly Virtues.
The following table may be helpful for those studying Chinese or Japanese...
Title
Characters
Romaji

(Romanized Japanese)

Various forms of Romanized Chinese
Moderation
節制

---

节制
sessei / sesei
jié zhì / jie2 zhi4 / jie zhi / jiezhi
chieh chih / chiehchih
Seven Heavenly Virtues
信仰希望慈善堅忍正義慎重節制

---

信仰希望慈善坚忍正义慎重节制
shinkou kibou jizen kennin seigi shinchou sessei

---

shinko kibo jizen kennin seigi shincho sesei

---

shinkokibojizenkenninseigishinchosesei
xìn yǎng xī wàng cí shàn jiān rěn zhèng yì shèn zhòng jié zhì

---

xin4 yang3 xi1 wang4 ci2 shan4 jian1 ren3 zheng4 yi4 shen4 zhong4 jie2 zhi4

---

xin yang xi wang ci shan jian ren zheng yi shen zhong jie zhi
hsin yang hsi wang tz`u shan chien jen cheng i shen chung chieh chih

---

hsin yang hsi wang tzu shan chien jen cheng i shen chung chieh chih
Temperance
節制

---

节制
sessei / sesei
jié zhì / jie2 zhi4 / jie zhi / jiezhi
chieh chih / chiehchih
In some entries above you will see that characters have different versions above and below a line.
In these cases, the characters above the line are Traditional Chinese, while the ones below are Simplified Chinese.
All of our calligraphy wall scrolls are handmade.
When the calligrapher finishes creating your artwork, it is taken to my art mounting workshop in Beijing where a wall scroll is made by hand from a combination of silk, rice paper, and wood.
After we create your wall scroll, it takes at least two weeks for air mail delivery from Beijing to you.
Allow a few weeks for delivery. Rush service speeds it up by a week or two for $10!
When you select your calligraphy, you'll be taken to another page where you can choose various custom options.
Interarea Sessions
...ideas and support for Chinese and Japanese women's reform ... Elizabeth Dorn Lublin examines WCTU temperance activism in Japan during the Meiji period.
Japanese kanji symbols for Temperance
Japanese symbols for Temperance. Online English-Japanese Dictionary.
... Christian T-shirt of Japanese Symbols : Japanese symbols dictionary : T : Temperance...
SPYDERCO FB05 TEMPERANCE
Spyderco's Temperance is a serious entry into the fixed blade market.
... Butterfly Knives, Kitchen Knives and Japanese Swords available on the internet...
AIC Natural Language Program
Information on their projects in multimedia/multimodal interfaces, spoken ... The SRI AI Center Natural Language Program does research on natural language...
Japanese Kanji Images
Image of Japanese KANJI. Kanji idiomatic phrase, meaning, and ... "Self-confidence", "Sincerity", "Temperance", "Virtue", "Wisdom", Nov 22, 2006. Animal name.
Total Quality Japanese: From underkimono to fried fish, not all that meets the eye is Japanese
Japanese Study Past and Present. Employment. School & Courses ... on Fridays, Catholic fish days, hence the link to self-restraint, or "temperance.
Japanese Symbols Dictionary for Christian > T
Online English to Japanese symbol dictionary for Christian.
... English to Japanese dictionary for Christian. Oriental Kanji symbols. Temperance (Sessei)...
Truth - Others - Japanese Kanji Images
Japanese Kanji Images. Truth / Shinjitsu. truth. the truth.
... temperance. the gospel. the wrath of heaven. tolerance. trinity. truth. untruth. valiant.