Buy a Custom Unity Chinese or Japanese Calligraphy Wall Scroll
We have many options to create artwork with the Chinese characters / Asian symbols / Japanese Kanji for Unity on a wall scroll or portrait.
If you want to create a cool Unity wall scroll, this is the place. Below you will find a few Asian symbols that express the idea of Unity.
---
---
ai ha subete o kanzen ni musubu obi de aru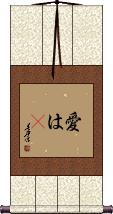 This Japanese phrase suggests that we (or a couple) are bound together by love.

I searched the web and found all of these English translation variations for this phrase:

Have love; The only way in which you may be completely joined together.

Love is the sash that perfectly binds us together.

Love is what binds us together

Love, which binds all things together in perfect unity.

This same Japanese phrase is used as part of Colossians 3:14 in at least one version of the Japanese Bible.

A few Biblical versions include:

...Charity, which is the bond of perfectness. (KJV)

...Love, which binds them all together in perfect unity. (NIV)
---
Note: Because this selection contains some special Japanese Hiragana characters, it should be written by a Japanese calligrapher.
Broken Mirror Rejoined
Used in modern times for divorced couples that come back together
A husband and wife separated and reunited.

About 1500 years ago in China, there lived a beautiful princess named Le Chang. She and her husband Xu De Yan loved each other very much. But when the army of the Sui Dynasty was about to attack their kingdom, disposed of all of their worldly possessions and prepared to flee into exile.

They knew that in the chaos, they might lose track of each other, so the one possession they kept was a bronze mirror which is a symbol of unity for a husband and wife. They broke the mirror into two pieces, and each of them kept half of the mirror. They decided that if separated, they would try to meet in the fair during the 15th day of the first lunar month (which is the lantern festival). Unfortunately, the occupation was brutal, and the princess was forced to become the mistress of the new commissioner of the territory, Yang Su.

At the Lantern Festival the next year, the husband came to the fair to search for his wife. He carried with him, his half of the mirror. As he walked through the fair, he saw the other half of the mirror for sale at a junk market by a servant of the commissioner. The husband recognized his wife's half of the mirror immediately, and tears rolled down his face as he was told by the servant about the bitter and loveless life that the princess had endured.

As his tears dripped onto the mirror, the husband scratched a poem into his wife's half of the mirror:
---
You left me with the severed mirror,
The mirror has returned but absent are you,
As I gaze in the mirror I seek your face,
I see the moon but as for you, I see not a trace.
---
The servant brought the inscribed half of the mirror back to the princess. For many days, the princess could not stop crying when she found that her husband was alive and still loved her.

Commissioner Yang Su, becoming aware of this saga realized that he could never obtain the love of the princess. He sent for the husband and allowed them to reunite.

This proverb, 破鏡重圓, is now used to describe a couple who has been torn apart for some reason (usually divorce) but have come back together (or remarried).
It seems to be more common these days in America for divorced couples to reconcile and get married to each other again. This would be a great gift if you know someone who is about to remarry their ex.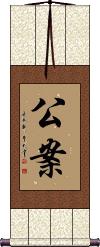 In Buddhist context, this is a Zen question for meditation.

From the Buddhist dictionary this is:
Problems set by Zen masters, upon which thought is concentrated as a means to attain inner unity and illumination.

The secular meaning of this word can mean a judge's desk, complex legal case, contentious issue, a dossier, case record, public laws, regulations, or case-law.
One Heart / One Mind / Heart and Soul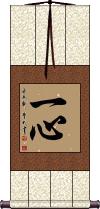 This literally reads as "one heart" in Chinese, Japanese Kanji, and old Korean Hanja.

Colloquially or figuratively, it means: wholeheartedly; heart and soul; of one mind; wholeheartedness; one's whole heart; with the whole mind or heart; one mind of heart.
I'm not kidding, all of those came right from the dictionary for this one title. In Buddhism, this can refer to the bhūtatathatā, or the whole of things; the universe as one mind, or a spiritual unity.

In Japanese this can be the female given name, Hitomi.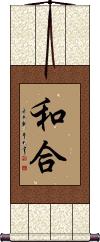 和合 means to blend, unite, or be of one mind.

和合 is usually used as a Buddhist term. It can also be defined as: harmony; concord; agreement; unity; union; harmonize.
Oneness of Heaven and Humanity

This title represents the oneness of heaven and humanity. It conveys the idea that man is an integral part of nature.

You can also read this as "heaven and man in unity", or "nature and man in unity". The "man" is really "people" or "humans" and is not gender-specific in Chinese.

This title represents the idea of oneness, unity, integrity, and/or inclusion in Japanese.

The Kanji breakdown:
一 One    体 Body    性 Nature
---
Note: This word can be understood in Chinese but it more a Japanese word. Best if your audience is Japanese.
Strength and Love in Unity

This proverb literally means:
"Strength [and] Love [are] Not Two [separate ideas/concepts/things]".

You'll find this proverb translated from Japanese to English as:
Love and strength are not separate.
Power and love are indivisible.
Strength and love in harmony.
Strength and love stand together.

Old Japanese grammar is quite different than English, and so this proverb says a lot within the brevity of just 4 characters. If you just read these characters directly as, "Strength Love Not Two", you'd probably miss the real meaning.
---
According to the Swedish Shorinji Kempo Federation, this is the second characteristic of Shorinji Kempo.

This post really explains the concept best in my opinion: Bushido by MS: Riki Ai Fu Ni, which states: "Riki Ai Funi" is the philosophy that power (Riki) and love (Ai) are indivisible. More concretely, a person, who is powerful but does not have love, cannot control and misuse his/her power; on the other hand, a person, who has loved ones but is not powerful enough, cannot protect himself/herself nor loved ones.
Unity / United / Solidarity / Cooperation
Join Forces / Rally Together

團結 / 糰結 means to join forces, unity, united, union, combination, cooperation or solidarity.

Regarding solidarity, this was part of the Chinese title used for the Solidarity Workers Union in Poland. In some circumstances, this can mean "hold a rally".

While there's not a perfect match to the English word "unity" in Chinese, this word is pretty close. It contains the idea of joining forces, and working as one. It could even mean to rally together to achieve a goal, or defeat a common enemy.
---

There are several variations of these characters such as 团结, 団結, 團結, 糰結, etc. Modern Japanese will write it 団結. Just the first Kanji varies. Click on the image of that modern Japanese first Kanji to the right if you want this version instead of the traditional one.

団結空手道 is the title for Danketsu Karate-Do, a dojo located in Stroudsburg, PA.

団結 (danketsu) means union, unity, or combination.

空手道 (karate-do) means "empty hand way".


---
If you need you martial arts school/dojo/academy added to my database, just give me the info (actual Chinese/Japanese text if you have it).

身土不二 (Shindofuni) is originally a Buddhist concept or proverb referring to the inseparability of body-mind and geographical circumstances.

身土不二 literally reads, "Body [and] earth [are] not two".

Other translations or matching ideas include:
Body and land are one.
Body and earth can not be separated.
Body earth sensory curation.
You are what you eat.
Indivisibility of the body and the land (because the body is made from food and food is made from the land).

Going further, this speaks of our human bodies and the land from which we get our food being closely connected. This phrase is used often when talking about natural and organic vegetables coming directly from the farm to provide the healthiest foods in Japan.

Character notes: 身(shin) in this context does not just mean your physical body rather a concept including both body and mind.
土 (do) refers to soil, earth, clay, land, or in some cases, locality. It's not the proper name of Earth, the planet. However, in can refer to the land or realm we live in.

Japanese note: This has been used in Japan, on and off since 1907 as a slogan for a governmental healthy eating campaign (usually pronounced as shindofuji instead of the original shindofuni in this context). It may have been hijacked from Buddhism for this propaganda purpose, but at least this is "healthy propaganda".

Korean note: The phrase 身土不二 was in use by 1610 A.D. in Korea where it can be found in an early medical journal.
In modern South Korea, it's written in Hangul as 신토불이. Korea used Chinese characters (same source for Japanese Kanji) as their only written standard form of the language until about a hundred years ago. Therefore, many Koreans will recognize 身土不二 as a native phrase and concept.
---
See Also: Strength and Love in Unity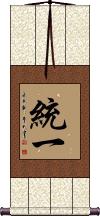 統一 means to unify, to unite, to integrate, unity, consolidation, unification.
The following table may be helpful for those studying Chinese or Japanese...
Title
Characters
Romaji

(Romanized Japanese)

Various forms of Romanized Chinese
Love Binds Us Together
愛は全てを完全に結ぶ帯である
ai ha subete o kanzen ni musubu obi de aru
Broken Mirror Rejoined
破鏡重圓

---

破镜重圆
pò jìng chóng yuán

---

po4 jing4 chong2 yuan2

---

po jing chong yuan

---

pojingchongyuan
p`o ching ch`ung yüan

---

pochingchungyüan

---

po ching chung yüan
Koan
公案
kouan / koan
gōng àn / gong1 an4 / gong an / gongan
kung an / kungan
One Heart
One Mind
Heart and Soul
一心
isshin / ishin
yī shì dài

---

yi1 shi4 dai4

---

yi shi dai

---

yishidai
i shih tai

---

ishihtai
One Mind
Unity
和合
wagou / wago

---

wago / wago

---

wago / wago
hé hé / he2 he2 / he he / hehe
ho ho / hoho
Oneness of Heaven and Humanity
天人合一
tiān rén hé yī

---

tian1 ren2 he2 yi1

---

tian ren he yi

---

tianrenheyi
t`ien jen ho i

---

tienjenhoi

---

tien jen ho i
Oneness
Unity
一體性

---

一体性
ittaisei
yī tǐ xìng

---

yi1 ti3 xing4

---

yi ti xing

---

yitixing
i t`i hsing

---

itihsing

---

i ti hsing
Strength and Love in Unity
力愛不二

---

力爱不二
riki ai fu ni

---

rikiaifuni
Unity
United
Solidarity
Cooperation
團結 / 糰結

---

团结 / 団结
dan ketsu / danketsu
tuán jié / tuan2 jie2 / tuan jie / tuanjie
t`uan chieh / tuanchieh / tuan chieh
Danketsu Karate-Do
団結空手道
dan ketsu kara te dou

---

danketsukaratedou

---

dan ketsu kara te do

---

danketsukaratedo
Body and Earth in Unity
身土不二
shindofuni / shindofuji
Unite
Unity
統一

---

统一
toitsu
tǒng yī / tong3 yi1 / tong yi / tongyi
t`ung i / tungi / tung i
In some entries above you will see that characters have different versions above and below a line.
In these cases, the characters above the line are Traditional Chinese, while the ones below are Simplified Chinese.
All of our calligraphy wall scrolls are handmade.
When the calligrapher finishes creating your artwork, it is taken to my art mounting workshop in Beijing where a wall scroll is made by hand from a combination of silk, rice paper, and wood.
After we create your wall scroll, it takes at least two weeks for air mail delivery from Beijing to you.
Allow a few weeks for delivery. Rush service speeds it up by a week or two for $10!
When you select your calligraphy, you'll be taken to another page where you can choose various custom options.