Custom Tolerance Chinese & Japanese Calligraphy Wall Scroll
We have many options to create artwork with Tolerance characters on a wall scroll or portrait.
If you want to create a cool Tolerance wall scroll, this is the place. Below you will find a few Asian symbols that express the idea of tolerance.

Gaman is a Zen Buddhist term from Japan that means "enduring the seemingly unbearable with patience and dignity".

This title can also be translated as patience, perseverance, tolerance, or self-denial.

我慢 is also a Chinese Buddhist term with a different pronunciation. It comes from Sanskrit abhimāna or ātma-mada. Chinese Buddhism defines this very differently as, "Egoism exalting self and depreciating others", "self-intoxication", or "pride". Alone, the first character means "Me, I, or Self", and the second character in a Buddhist context comes from Sanskrit māna and means pride, arrogance, self-conceit, looking down on others, supercilious, etc.
---
I'm currently working with Japanese and Chinese translators to try and reconcile the true meaning or any commonality of this word between languages. For now, please only consider this if your audience is Japanese.
Patience / Perseverance / To Endure / Tolerant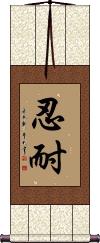 Patience is quiet hope and trust that things will turn out right. You wait without complaining. You are tolerant and accepting of difficulties and mistakes. You picture the end in the beginning and persevere to meet your goals.

忍耐 can also mean "to endure", "restrain oneself", "forbearance", and in some context it can mean "perseverance" or "endurance".

忍耐 is also used as a tenet of Taekwondo, Tang Soo Do, and other Korean martial arts where it's titled "Endurance" and romanized as "In Neh".
---

Note that when writing this as Kanji, Japanese will tend to write the first character in the form shown to the right. If you select our Japanese master calligrapher, please expect this Kanji form (yes, it's just one stroke that is slightly different in location, crossing another stroke in the Japanese Kanji form).
---
See Also: Peace | Harmony | Perseverance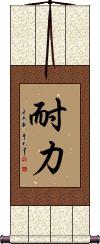 耐力 means stamina or endurance. However, depending on context, it can also mean patience or tolerance.

耐力 is the first part of titles like "endurance swimming".

The first character means, "to tolerate" or "to endure".

The second character is "power".

Together, you could say this word means, "the power to endure".

Being tolerant is accepting differences. You don't expect others to think, look, speak or act just like you. You are free of prejudice, knowing that all people have feelings, needs, hopes and dreams. Tolerance is also accepting things you wish were different with patience and flexibility.

寬容 can also be translated as magnanimity, generosity, or leniency.

Note: There is a tiny deviation in the first character when written in Japanese. If you choose our Japanese master calligrapher, the little dot on the lower right of the first character will be omitted. With or without the dot, this can be read in Chinese, Japanese, and old Korean.
---
See Also: Patience
The following table may be helpful for those studying Chinese or Japanese...
Title
Characters
Romaji

(Romanized Japanese)

Various forms of Romanized Chinese
Gaman
我慢
ga man / gaman
wǒ màn / wo3 man4 / wo man / woman
Patience
Perseverance
To Endure
Tolerant
忍耐
nin tai / nintai
rěn nài / ren3 nai4 / ren nai / rennai
jen nai / jennai
Stamina
Endurance
耐力
nài lì / nai4 li4 / nai li / naili
Tolerance
寬容

---

宽容
kanyou / kanyo
kuān róng

---

kuan1 rong2

---

kuan rong

---

kuanrong
k`uan jung

---

kuanjung

---

kuan jung
In some entries above you will see that characters have different versions above and below a line.
In these cases, the characters above the line are Traditional Chinese, while the ones below are Simplified Chinese.
All of our calligraphy wall scrolls are handmade.
When the calligrapher finishes creating your artwork, it is taken to my art mounting workshop in Beijing where a wall scroll is made by hand from a combination of silk, rice paper, and wood.
After we create your wall scroll, it takes at least two weeks for air mail delivery from Beijing to you.
Allow a few weeks for delivery. Rush service speeds it up by a week or two for $10!
When you select your calligraphy, you'll be taken to another page where you can choose various custom options.