Custom Moderation Chinese & Japanese Calligraphy Wall Scroll
Choose below from many options to create artwork with Moderation characters on a wall scroll or portrait.
---
---

Moderation is creating a healthy balance in your life between work and play, rest and exercise. You don't overdo or get swept away by the things you like. You use your self-discipline to take charge of your life and your time.

節制 can also be translated as sobriety, self-restraint, or temperance.

節制 is often used as part of the Seven Heavenly Virtues to represent sobriety and/or temperance.
---

In Chinese and Korean, the first character means "modest". The second means "empty". Together these characters reinforce the ideas of modesty and being empty of ego.

This can also be translated as humbleness or humility.
---

In Japan, they tend to use a slightly-simplified version of the second Kanji for this word. It also happens to be an alternate/simplified version used in China too. If you want to order the modern Japanese/simplified version, just click in the Kanji image shown to the right, instead of the button above.
Humble / Modesty / Humility

In Japanese, first Kanji means "self-effacing", "humble oneself", "condescend", "be modest". The second means "void" or "emptiness".

謙虚 is the most common way to say humble or modest in Japanese without a derogatory meaning (some other words suggest weakness but this version holds a better humble meaning).

In short, temperance is knowing when to say "when".

Temperance is the practice of moderation and restraint (in fact, this Asian word is often translated as moderation or restraint).

It was one of the five tenets held to be vital to society in Hellenic culture. It is also one of the Four Cardinal Virtues considered central to Christian behavior by the Catholic Church.
---
Note: Also considered to be one of the Seven Heavenly Virtues.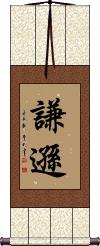 謙遜 can also be translated as being modest, humble, or unpretentious.

Being humble is considering others to be as important as yourself. You are thoughtful of their needs and willing to be of service. You don't expect others or yourself to be perfect. You learn from your mistakes. When you do great things, humility reminds you to be thankful instead of boastful.

This Humility title is also used as one of the 8 key concepts of Tang Soo Do. Often romanized as "Kyum Son".

Also sometimes used in Japanese to express humility with an essence of modesty.
---
Daodejing / Tao Te Ching - Excerpt
Excerpt from Chapter 67
yī yuē cí èr yuē jiǎn sān yuē bù gǎn wéi tiān xià xiān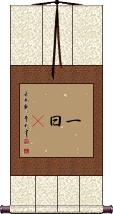 一曰慈二曰儉三曰不敢為天下先 is an except from the 67th Chapter of Lao Tzu's (Lao Zi's) Te-Tao Ching (Dao De Jing).

This is the part where the three treasures are discussed. In English, we'd say these three treasures are compassion, frugality, and humility. Some may translate these as love, moderation, and lack of arrogance. I have also seen them translated as benevolence, modesty, and "Not presuming to be at the forefront in the world". You can mix them up the way you want, as translation is not really a science but rather an art.

I should also explain that the first two treasures are single-character ideas, yet the third treasure was written out in six characters (there are also some auxiliary characters to number the treasures).

If Lao Tzu's words are important to you, then a wall scroll with this passage might make a great addition to your home.

In the most basic translation, this means road through the middle, or middle road.

The expanded meaning can be moderation, golden mean.

But if you are looking for this title, you are probably seeking the Buddhist definition, which is more complex.

中道 is the middle way or middle path of Buddhism. 中道 has various interpretations. In general, it denotes the mean between two extremes and has special reference to the mean between realism and nihilism, or eternal substantial existence and annihilation.

The Buddha teaches that one should not take things to extremes. Don't be extremely evil, and engage in debauchery and murder. But do not spend every waking out trying to be a perfect saint. Instead, take the middle path, try to help others, show loving kindness wherever you can, try not to do harm. If you do inadvertently harm another being, make amends if you can, and move on. Realize you are not perfect, but in time, a path of moderation lead toward proper living and enlightenment.

慎重 conveys the idea of being considerate, having prudence, and being thoughtful when taking action.

慎重 can also mean cautious, careful, discreet, deliberate, or taking all things into consideration.

The general meaning is shared across languages. However, in Chinese, this is more about prudence, while in Japanese, this is more about being considerate.

Chinese Catholics use this word to represent "prudence" in the list of the Seven Heavenly Virtues.
---


Note: Depending on your choice of Chinese or Japanese calligraphers, the first Kanji will vary slightly. It is technically the same character. Japanese tend to leave a space between the upper and lower portions of this particular Kanji. See sample images to the right.
---
xìn yǎng xī wàng cí shàn jiān rěn zhèng yì shèn zhòng jié zhì
shinkou kibou jizen kennin seigi shinchou sessei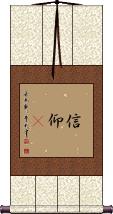 This is a list in Chinese and Japanese Kanji of an interpretation of the Seven Heavenly Virtues.

1. Faith is belief in God, and the right virtues.
2. Hope is taking a positive future view that good will prevail.
3. Charity is concern for, and active helping of, others.
4. Fortitude is never giving up.
5. Justice is being fair and equitable with others.
6. Prudence is care of and moderation with money.
7. Temperance is moderation of needed things and abstinence from things which are not needed.

The full list is here. This is a word list, not a common phrase. While all Chinese and Japanese people will recognize the words in the list, they may not understand what the list is about (unless they are familiar with the Seven Heavenly Virtues).
---
don't get this as a tattoo or anything like that without first consulting a native translator in the target language. These are fine for a wall scroll but a long discussion is needed before you commit to this for a lifetime inking commitment.
The following table may be helpful for those studying Chinese or Japanese...
Title
Characters
Romaji

(Romanized Japanese)

Various forms of Romanized Chinese
Moderation
節制

---

节制
sessei / sesei
jié zhì / jie2 zhi4 / jie zhi / jiezhi
chieh chih / chiehchih
Humble
Modest
謙虛

---

谦虚
ken kyo / kenkyo
qiān xū / qian1 xu1 / qian xu / qianxu
ch`ien hsü / chienhsü / chien hsü
Humble
Modesty
Humility
謙虚
ken kyo / kenkyo
qiān xū / qian1 xu1 / qian xu / qianxu
ch`ien hsü / chienhsü / chien hsü
Modesty
謙遜

---

谦逊
kenson
qiān xùn / qian1 xun4 / qian xun / qianxun
ch`ien hsün / chienhsün / chien hsün
Temperance
節制

---

节制
sessei / sesei
jié zhì / jie2 zhi4 / jie zhi / jiezhi
chieh chih / chiehchih
Humility
Being Humble
謙遜

---

谦逊
ken son / kenson
qiān xùn / qian1 xun4 / qian xun / qianxun
ch`ien hsün / chienhsün / chien hsün
Daodejing
Tao Te Ching - Excerpt
一曰慈二曰儉三曰不敢為天下先

---

一曰慈二曰俭三曰不敢为天下先
yī yuē cí èr yuē jiǎn sān yuē bù gǎn wéi tiān xià xiān

---

yi1 yue1 ci2 er4 yue1 jian3 san1 yue1 bu4 gan3 wei2 tian1 xia4 xian1

---

yi yue ci er yue jian san yue bu gan wei tian xia xian
i yüeh tz`u erh yüeh chien san yüeh pu kan wei t`ien hsia hsien

---

i yüeh tzu erh yüeh chien san yüeh pu kan wei tien hsia hsien
The Middle Way
中道
chuu dou / chuudou / chu do / chudo
zhōng dào

---

zhong1 dao4

---

zhong dao

---

zhongdao
chung tao

---

chungtao
Humble
謙恭

---

谦恭
qiān gōng

---

qian1 gong1

---

qian gong

---

qiangong
ch`ien kung

---

chienkung

---

chien kung
Prudence
Considerate
慎重
shin chou / shinchou / shin cho / shincho
shèn zhòng

---

shen4 zhong4

---

shen zhong

---

shenzhong
shen chung

---

shenchung
Seven Heavenly Virtues
信仰希望慈善堅忍正義慎重節制

---

信仰希望慈善坚忍正义慎重节制
shinkou kibou jizen kennin seigi shinchou sessei

---

shinko kibo jizen kennin seigi shincho sesei

---

shinkokibojizenkenninseigishinchosesei
xìn yǎng xī wàng cí shàn jiān rěn zhèng yì shèn zhòng jié zhì

---

xin4 yang3 xi1 wang4 ci2 shan4 jian1 ren3 zheng4 yi4 shen4 zhong4 jie2 zhi4

---

xin yang xi wang ci shan jian ren zheng yi shen zhong jie zhi
hsin yang hsi wang tz`u shan chien jen cheng i shen chung chieh chih

---

hsin yang hsi wang tzu shan chien jen cheng i shen chung chieh chih
In some entries above you will see that characters have different versions above and below a line.
In these cases, the characters above the line are Traditional Chinese, while the ones below are Simplified Chinese.
All of our calligraphy wall scrolls are handmade.
When the calligrapher finishes creating your artwork, it is taken to my art mounting workshop in Beijing where a wall scroll is made by hand from a combination of silk, rice paper, and wood.
After we create your wall scroll, it takes at least two weeks for air mail delivery from Beijing to you.
Allow a few weeks for delivery. Rush service speeds it up by a week or two for $10!
When you select your calligraphy, you'll be taken to another page where you can choose various custom options.
Translating Simplified Chinese
...professional Simplified Chinese Translation at excellent prices.
... It signifies moderation, purity, honesty and life, but is also used at funerals...
Chinese Food in Gainesville
...to Chinese Food in ... to ask whether the other has eaten when two Chinese meet.
... Chinese cuisine reminds us to eat anything in moderation and to...
Taipei Times - archives
Original English-language news coverage of Taiwan.
... Chinese leaders nonetheless reacted with restraint and moderation -- helping to...
Staff Information - China History Forum, Chinese history forum
...is an online Chinese history forum for people who are interested in learning and ... that this forum is in good order through the various moderation work they do.
GLOCOM Platform - Debates
News, opinions, debates and forums on Japan's domestic and international affairs ... Thus, Chinese moderation toward Japan is much less than that shown toward the...
Chinese Music (Reference) - TeacherVision.com
...styles, vocal music, instruments, and tradition of the Han Chinese culture.
... Zhongyong concept: a "doctrine of the mean" that stresses moderation and balance.
owen's bookmarks tagged with "moderation" on del.icio.us
26 blogger:chinese. 2 blogger:taiwan. 498 blogging. 2 bloggingg ... 23 chinese. 2 chrisanderson. 1 christmas. 1 citizenmedia. 1 citizennews. 15 classification...
Moderation Quotes
Moderation quotes, Searchable and browsable database of ... Exactness and neatness in moderation is a virtue, but carried to ... Chinese Proverb...
: <p>The USA is China's Devil du Jour
...Navy recon plane and a Chinese fighter-interceptor, never underestimate the ... and-stick that encourages Chinese moderation and integration while penalizing...