Buddhist Lotus
Chinese & Japanese Calligraphy Wall Scrolls
We have many options to create custom artwork with Lotus (the flower of the Buddha) characters on a wall scroll or portrait for you...
---
---

荷花 is one of two ways to write/say "lotus" or "lily" in Chinese.

It will make a nice wall scroll if you are fond of lotus flowers, and/or lotuses have a special meaning to you.

靑蓮 is a common title for Blue Lotus.

靑蓮 is often used in a Buddhist context for blue lotus from the Sanskrit "utpala". This often refers to the clarity and purity of the lotus blue eyes possessed by a Living Buddha. It can also represent purity of mind (without desire, suffering, fear etc).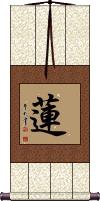 蓮 is another name for "lotus".

This happens to be a single-character that expresses "lotus" in Chinese, and the common name of "lotus" in Japanese and Korean (note that there are two ways to pronounce this character in Korean).
Namu Myoho Renge Kyo / Homage to Lotus Sutra
nán wú miào fǎ lián huá jīng
na mu myou hou ren ge kyou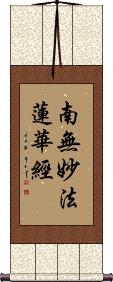 This is sometimes translated as the "Devotion to the Law of the Lotus Flower Scripture".

This is a meditation chant and homage to the Lotus Sutra, used by Nichiren Buddhists in Japan.
This is also a chant used in China by certain sects of Buddhism that celebrate the deity Guanyin.

Also romanized as "Nam Myōhō Renge Kyō" or without accents as "Nam Myoho Renge Kyo".
---

Original
Traditional
Version
The last character was originally written as seen on the left. Sometimes, you will see it written in the Japanese variant form as shown on the right. If you want this Japanese variant, click on the "Modern Japanese Variant" text instead of the button up by the main title of this entry.
Om Mani Padme Hum
Oṃ maṇi padme hūṃ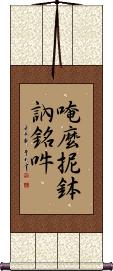 This is one of the earliest and best known mantras in the Buddhist tradition.

It can be heard in temples from Tokyo to Tibet.

This mantra is an expression of the basic attitude of compassion. It translates literally as, "oṃ the jewel in the lotus hūṃ".
---
There are several titles and transliterations for this mantra, including, 六字大明呪 (Great 6-syllable mantra), 六字真言 (6-syllable Sanskrit mantra of Avalokiteshvara bodhisattva), 唵嘛呢叭咪吽, 唵嘛呢叭咪哞, and 唵嘛咪叭呢哞.
Contact me if you need any of these alternates on your wall scroll.

日蓮 is the title Nichiren.

This title refers to a Buddhist priest, who lived from 1222 to 1282. He is the founder of the Nichiren sect of Buddhism.
According to historical documents, the Nichiren sect was established in 1252. Adding the character for sect, this would be 日蓮宗 (Nichiren sect), which is also known as the 法華宗 or Lotus sect.

According to Soothill-Hodous...
Nichiren's chief tenets are the three great mysteries 三大祕法, representing the trikāya:
1. 本尊 or chief object of worship, being the great maṇḍala of the worlds of the ten directions, or universe, i.e. the body or nirmāṇakāya of Buddha.
2. 題目 the title of the Lotus Sutra 妙法蓮華經 Myo-ho-ren-ge-kyo, preceded by Namo, or, "Adoration to the scripture of the lotus of the wonderful law", for it is Buddha's spiritual body.
3. 戒壇 the altar of the law, which is also the title of the Lotus as above; the believer, wherever he is, dwells in the Pure-land of calm light 寂光淨土, the saṃbhogakāya.
This in-stock artwork might be what you are looking for, and ships right away...
The following table may be helpful for those studying Chinese or Japanese...
Title
Characters
Romaji

(Romanized Japanese)

Various forms of Romanized Chinese
Lotus
荷花
hé huā / he2 hua1 / he hua / hehua
ho hua / hohua
Blue Lotus
靑蓮

---

靑莲
seiren
qing lián / qing lian2 / qing lian / qinglian
ch`ing lien / chinglien / ching lien
Lotus
蓮

---

莲
hasu
lián / lian2 / lian
lien
Namu Myoho Renge Kyo
Homage to Lotus Sutra
南無妙法蓮華經 / 南無妙法蓮華経

---

南无妙法莲华经
na mu myou hou ren ge kyou

---

namumyouhourengekyou

---

na mu myo ho ren ge kyo

---

namumyohorengekyo
nán wú miào fǎ lián huá jīng

---

nan2 wu2 miao4 fa3 lian2 hua2 jing1

---

nan wu miao fa lian hua jing

---

nanwumiaofalianhuajing
nan wu miao fa lien hua ching

---

nanwumiaofalienhuaching
Om Mani Padme Hum
唵麼抳鉢訥銘吽

---

唵么抳钵讷铭吽
on mani padomei un

---

onmanipadomeiun
ǎn mó nǐ bō míng hǒu

---

an3 mo2 ni3 bo1 ne4 ming2 hou3

---

an mo ni bo ne ming hou

---

anmoniboneminghou
an mo ni po ne ming hou

---

anmoniponeminghou
Nichiren
日蓮

---

日莲
nichi ren / nichiren
rì lián / ri4 lian2 / ri lian / rilian
jih lien / jihlien
In some entries above you will see that characters have different versions above and below a line.
In these cases, the characters above the line are Traditional Chinese, while the ones below are Simplified Chinese.
Many custom options...




And formats...




All of our calligraphy wall scrolls are handmade.
When the calligrapher finishes creating your artwork, it is taken to my art mounting workshop in Beijing where a wall scroll is made by hand from a combination of silk, rice paper, and wood.
After we create your wall scroll, it takes at least two weeks for air mail delivery from Beijing to you.
Allow a few weeks for delivery. Rush service speeds it up by a week or two for $10!
When you select your calligraphy, you'll be taken to another page where you can choose various custom options.